PROPELLERS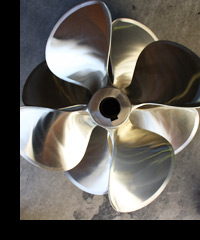 As a part of our core business at DH Porter & Company, we manufacture a broad range of fixed 2, 3 and 4 blade propellers for all types of water craft including yachts, powerboats and cruisers.
Propellers are manufactured in the following materials:


Manganese bronze

Aluminium bronze (Nibral)

Aluminium
Propeller castings are ground, balanced and bored as required and the propeller is then fitted to the shaft to ensure an exacting fit.
To complete our range, DH Porter & Company also supply and are agents for the following propeller lines:


Bri Ski Folding Propellers
- Racing Saildrive Propellers
- Standard Saildrive Folding Propellers
- Geared Folding Propellers
- Non-geared Folding Propellers

Gori Folding Propellers

Austral Propellers

Propulse Adjustable Pitch Propellers

Autostream Feathering Propellers

Solas Outboard Propellers
DH Porter & Company also offer a full propeller alteration and repair service using licenced "Prop Scan" Inspection Systems. Having recently acquired the latest (E4) diagnostics software we are well equipped to handle your sophisticated optimization requirements.
Additionally, here at DH Porter & Company we offer the following propeller pare products:


Lanolene Spray

Lanolene Grease

Application (on request)